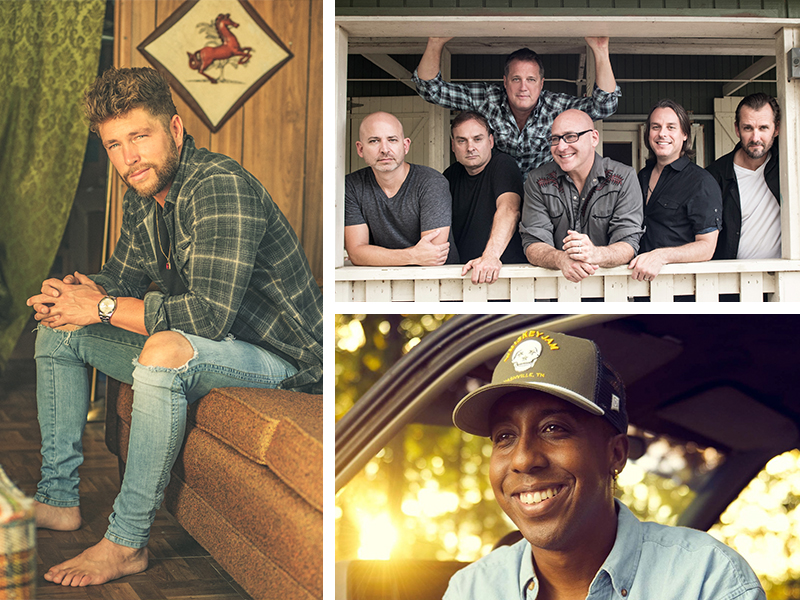 The Alabaster Arts Council is excited to announce the music lineup for Alabaster CityFest, Saturday, June 3, on the front lawn of Thompson High School in Alabaster. In addition to the headliners, the event will feature a regional music lineup and a host of other attractions, including vendors and food trucks.
"The Arts Council is excited to announce this lineup for Alabaster CityFest," says Adam Moseley, President of the Alabaster Arts Council. "It gives the community an opportunity to gather for some great food, family fun and incredible music."
Central State Bank, Coca-Cola and the City of Alabaster are among the sponsors for the event. "The city is a proud sponsor of Alabaster CityFest," says Jamie Cole, city council member in Alabaster's Ward 5 and Arts Council vice president. "The music lineup is diverse and represents some of the best up-and-coming artists as well as some classic favorites."
Chris Lane leads the lineup. Lane is headlining his FILL THEM BOOTS TOUR nationwide now after sharing the bill with other A-list acts like Florida Georgia Line, Kane Brown, Brad Paisley, and Dan + Shay, and Alabaster is proud to welcome him as a headlining artist at CityFest. Lane has a number of chart-topping country hits that have led to his 1.4 BILLION on-demand streams, including "Big, Big Plans," "Fix," 2X platinum "I Don't Know About You," and the massive hit duet with Tori Kelly, "Take Back Home Girl." The Kernersville, N.C. native has appeared on the Macy's Thanksgiving Day Parade, TODAY, The Bachelor, The Tonight Show Starring Jimmy Fallon, Late Night with Seth Meyers and CONAN, and was featured in PEOPLE's 2019 Sexiest Man Alive issue. He will perform at 9 PM.
Sister Hazel, set to perform at 7 PM, was called "one of the Top 100 Most Influential Independent Performers of the last 15 years" by Performing Songwriter Magazine. Their success began with the ubiquitous hit "All For You," all over radio in the late 1990s, and continued through the last two decades as one of the most fan-friendly acts in all of music. The band was a pioneer in the themed cruise industry by co-founding "The Rock Boat" and annually hosts events like the "Hazelnut Hang" and "Camp Hazelnut" that focus on creating unique experiences and interacting with the fans. Besides being a huge regional draw—the band gained and maintained enormous popularity in central Alabama—Sister Hazel also fits well into the Arts Council's mission of giving back to the community: "Lyrics For Life," founded by singer Ken Block, is a charity unites musicians and celebrities for concerts and auctions to benefit cancer research and patient-care charities. Confirming its cross-genre appeal, the band recently made its Grand Ole Opry debut!
Michael Warren, performing at 5:00 PM, is a CityFest staple that has played the festival many times, but returns this year with his band in a headlining slot. It has been a tremendous year for the native of Birmingham, who spent the previous decade writing songs in Los Angeles for A-listers like Akon, Jennifer Lopez and Toni Braxton. His four-song EP, "What's Country To You," recorded last year, spawned a hit with its title track. It reflects his ability to channel his love of all things Southern into songs that are danceable and moving. He now plays more than 200 shows a year, and the Arts Council is proud and excited that CityFest will be among those.
Alabaster CityFest will open at 9 AM. Local and regional music acts will continue throughout the afternoon, culminating with the headlining acts beginning at 5:00 PM. (For a full lineup as it is announced, visit alabasterciyfest.com/schedule).
KidsFest will return with rides and activities for the whole family, all day long, as will the Cruise-In Car Show. Vendors and food trucks will be on site throughout the event. "This is a great opportunity for local businesses to be a part of a big event," says Camille Herron, Arts Council vice president. "And we encourage those attending the event to support our sponsors; we couldn't make this happen without them."
About the Alabaster Arts Council
The Alabaster Arts Council, officially incorporated as a non-profit 501c3 organization in 2007, is made up of a group of local volunteers whose mission is to advance and enrich the quality of life in the Alabaster community through the arts and art education.