KidsFest Provides A Full Day of FREE Fun for Kids
Alabaster CityFest offers entertainment and activities for all ages. Bring the kids to enjoy a day of play at our KidsFest area, sponsored by Vic Smith, CPA.  The KidsFest area is open from 9 a.m. – 6 p.m. and is absolutely FREE!

The KidsFest area includes:
Amazing inflatables and kid rides
Hands-on arts & crafts
Lowe's Build-it workshop
Healthy eating demonstrations
Various children's activities
Bungee jumping (vendor – fee*)
Arts & Crafts
Everyone is an artist during our hands-on arts & crafts for all ages. Your children have the opportunity to get out of the sun and enjoy painting, drawing and making crafts. FREE!
Also available (while supplies last!) between 9 am – 12pm is the Lowe's Build-it workshop. Your child will have the opportunity to work with real tools, building a project they will be proud to display. FREE!
Safe Kids, Stress-Free Parents
Alabaster police officers and volunteers keep the area safe for children. Although the KidsFest area is an enclosed area, it is encouraged that parents stay with their children while in the KidsFest area.
Added Safety from Alabaster Police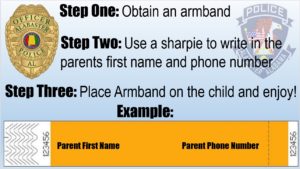 The Alabaster Police department is offering FREE children's armbands at the KidsFest entrance, and also at the baggage check stations. They are asking all parents to stop by and take one of the armbands, and with a Sharpie, write the name of the guardian who is attending CityFest with the child, along with their cell phone number on the armband. This will enable the police to call the guardian within minutes if the child were to be separated. If you have questions, you can visit the Alabaster Police Department's Facebook page, https://www.facebook.com/alabasterpolice/.
Security & Medical Assistance
In the event of an emergency, there will be security and medical personnel on-site during the music festival. The Alabaster Police Department will have several officers on duty for the event, as well as the Alabaster Fire Department for any emergency.