Welcome to Alabaster CityFest
June 1, 2019 — 17th Annual Outdoor Music Festival
We are so excited to provide you information on one of Alabama's premier family festivals, held the first Saturday of June each year.  Alabaster CityFest is located in Alabaster, Alabama, a suburb of Birmingham, Alabama. The festival takes place at the NEW Thompson High School. The main entrance will be off of Thompson Road, but a secondary entrance is also open from Kent Dairy Road. The address to THS is 1921 Warrior Parkway, Alabaster, AL. Get directions to Alabaster CityFest.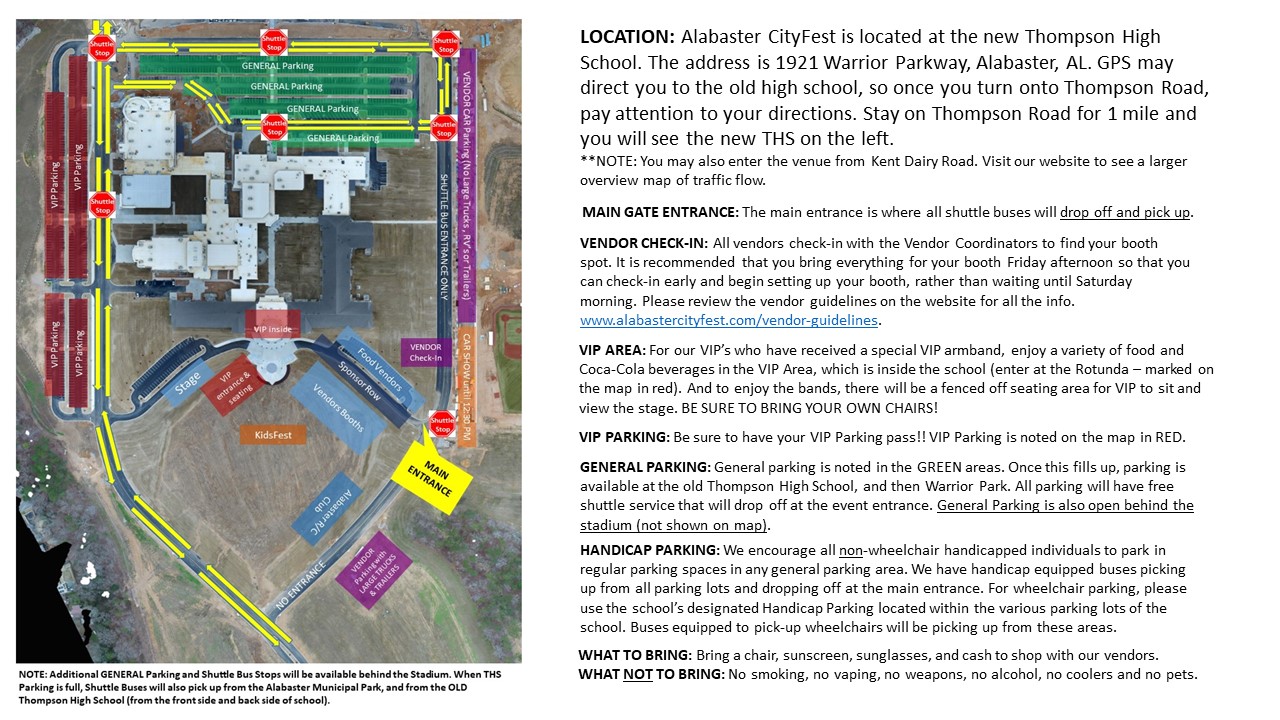 REMEMBER: No Coolers, No Pets, No Smoking, No Vaping, No Alcoholic Beverages, & No Firearms or Weapons
Each year the CityFest Music Festival attracts tens of thousands of visitors, not only from our local community, but from all across the southeast. CityFest grows larger each year, with crowds in the tens of thousands of visitors throughout the day. This year, our festival will be better than ever as we celebrate our 17th anniversary with great musical acts and a full day of fun for the entire family.
Need a Hotel Room for the Weekend?
For hotel recommendations, visit a complete listing of hotels in the Shelby County area provided by Shelby County Tourism.
Bring Sunscreen, Sunglasses, Shopping Money
Come early, and stay all day! Gates open at 9 a.m. Tents and umbrellas may be used for shade during the day, but must come down before the main stage concerts begin. Don't forget your sunglasses and sunscreen! Remember, it is a June Music Festival in Alabama. Bring shopping money so you can shop the custom and unique items available in the vendor area.
FREE Parking & FREE Shuttles
For your convenience, we have several FREE public parking areas with shuttles running to and from the festival site. Shuttles begin running at 8:45 a.m. and continue until the end of the festival. We also have reserved wheelchair parking available to provide easier access to the festival area — but understand, this event is outdoors and there are hills, grass and gravel to deal with from all parking areas.
Be sure to leave your coolers, firearms or weapons in your car before getting on the shuttle bus!